ABOUT THE PROJECT

Location

Aotea Square, Auckland

Deployed Solution Description

The two key components to this project were:

1. Design and implementation of a film capture and onsite encoding solution, delivering two separate streams 24/7 over five days (in consultation with advertising agency, DDB)

2. Design location provisioning  including camera locations and install, data port provision, site power etc. (In consultation with The Edge)

Size of the project

Viewership: over 700,000 unique viewers from 159 countries

Role and services

Slipstream provided the services as outlined above.

Innovation and service improvement

Our team was an integral part of the global viral success of this project. Reliability and scale were critical and why Slipstream was chosen by advertising agency, DDB.

As it became apparent the streams had gone viral there was concern from DDB and client SKY TV that data networks and streaming services would not cope, especially with the fifth day climax of the statue coming down.

Slipstream managed this situation throughout, with our Account Manager at platform side, and provisions successfully implemented as required.

Results

On time: Yes

To budget: As streams went viral, extra data was needed to cope with the hundreds of thousands of viewers – overall, 40TB was required. Our client regarded this as a 'good problem to have' and met the additional cost, with no issue.

Within scope:  Yes

Quality: All quality requirements met

Meeting Service Level Agreements: The stream did not drop out once in the five days – exceeding expectations.

Benefits and value

The success of the stream for clients DDB and SKY TV had long-lasting benefits. HBO in the US were so impressed by the creativity and seamless delivery of the project that they flew executives of DDB and SKY TV to New York to discuss future promotions.

As a marketing tool, the streams had huge success for SKY in increased uptake.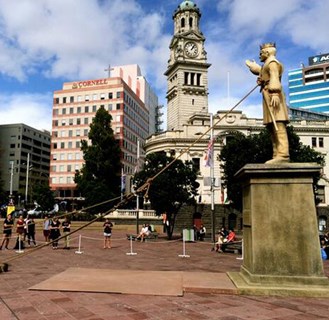 The stream became a reference point to the globe as the campaign went viral, giving the fans of the show the chance to contribute to bring down the tyrant King Joffrey – collectively and in real time.