ABOUT THE PROJECT
Snapshot of Success
800K viewers over 4 days
159 countries viewed the live stream
7200 mins of continuous streaming
0 secs of downtime
40TB data streamed
To get fans buzzing about Game of Thrones, SKY TV and their ad agency, DDB, decided to pull off an ambitious stunt:
To live stream an interactive and multi-day event where fans could help topple one of the show's villains, King Joffery.
Challenge
For a project of this scope, DDB knew that reliability and scale would be critical. They needed a streaming partner with the technical smarts and feet on the ground to make things happen – and stay ahead of all the "unknowns" that would inevitably get thrown up. 
That's why they made the call to go with Slipstream Media Ltd.
Here's what we did
Our job was to conceive and execute two separate live streams of the event to run continuously 24/7.  This required flawless onsite logistics and platform delivery.
At the venue in Aotea square, we collaborated with DDB and Auckland Live (the property managers) to set up cameras; provide data ports and site power; and manage a robust encoding solution.
All this we did while addressing the numerous public safety, privacy and security issues involved in live streaming in one of the city's most popular public spaces.
On the platform-side, our solution was robust and quickly scalable – a feature that turned out to be mission-critical.
Going viral and managing success
The stunt went viral almost immediately, but for our client, celebration was mixed with concern – would the data networks and streaming services cope?  The short answer was yes.
Slipstream confidently managed this situation throughout, working tirelessly with our supply partners to adapt provisions as required.
As the statue was due to fall on the last climactic day, hundreds of thousands were watching around the globe, for several minutes the website was overwhelmed by the volume of traffic, but due to our robust escalation procedures/planning, the video live stream continued to load and play flawlessly to viewers.
The results
In total, 800,000 people viewed the event in more than 159 countries. This required 40TB of data to be streamed over five days – with zero downtime.
The impact of the stunt being streamed around the world had long-lasting benefits for SKY TV and DDB, with HBO executives even flying down to New Zealand to discuss future promotions.
Bring Down the King - Watch it here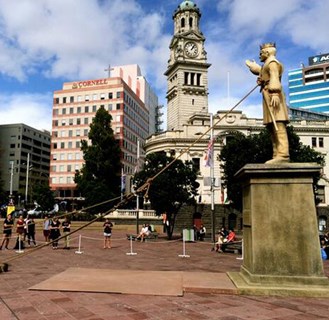 Project Info
Client: DDB and Sky TV
Categories: Corporate,Marketing,Public Body
Project url: [ { "caption": "Bring down the King", "link": "https://www.youtube.com/watch?v=GEPSo1B5Cis", "newWindow": true, "edit": false, "isInternal": false, "type": "external", "title": "Bring down the King" } ]