ABOUT THE PROJECT
SINCE 2010 - LIVE STREAMING COUNCIL MEETINGS
Slipstream and Hamilton City entered into an Agreement to live stream HCC meetings to local constituents. Working closely together on the HCC brief, Slipstream consulted on, designed, installed and operates a full end-to-end high quality multi PTZ camera production - all on a very restricted hardware budget. As an act of innovation and democratic transparency, the first of the live meetings was broadcast on Sept 29, 2010 - the first multi-cam solution for a public body in NZ. The PTZ solution is now used up and down the country.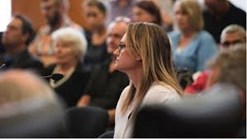 Slipstream have provided an end-to-end permanent installation including multiple cameras, audio, encoding server and live mixing software; distributing the stream live to our streaming and network platform. All speakers are profiled when they speak with up to 30 pre-set camera angles. 
For years it was the most sophisticated online broadcast of any public body in the country by some way, thanks to the innovation of Hamilton City and Slipstream. The public have responded by viewing the streams in growing numbers.

Hamilton City Council differs to other Council streaming solutions in the country for the following key reasons:
The solution needed to be designed, developed and implemented from scratch. This is markedly different from the services introduced for Christchurch City Council six months ago, which had multiple cameras, a software interface, data network and audio feeds already in place.
Longevity – Hamilton's streaming service has been running since 2010. As such, critical performance areas are well known. 
Along with Christchurch City Council's, it is easily the most sophisticated solution of the few councils with live streaming in New Zealand. This is due to the single operator managing PTZ multi-shot angles providing each Councillor with a profile shot as they speak.
http://www.hamilton.govt.nz/our-council/livestream/Pages/default.aspx
Slipstream was approached by Hamilton City Council to provide a live and on‑demand streaming solution.