ABOUT THE PROJECT
WORLD PIONEER OF LIVE STREAMING  
In January 2002, two international tennis tournaments were held at Auckland's ASB Bank Tennis Centre: the WTA ASB Classic, and the ATP Heineken Open.
Slipstream approached the local organiser, Auckland Tennis, and gained permission to trial a webcam transmission of the tournaments from a hosted URL. This was the first ever real-time global web transmission of a professional tennis tournament.
By 2005, we had progressed to global streaming of international tennis events from Dubai, Bangkok, and the US – further cementing Slipstream's delivery solutions as 'best-in-class'.
From 2006, we released further new technology and widened the commercial development of our services. By forming strategic relationships and implementing ongoing technology, we have continued to provide our clients with leading-edge solutions.
Being our initial flagship sport, international tennis provided the company with its early pioneering streaming successes. Pre-dating Youtube , Adobe Flash Media, and Google by several years, Slipstream began it's journey here - at the Auckland Tennis events back in 2001-2.

With limited television coverage beyond local shores, the large international field drew in large audiences of tens of thousands from all corners of the globe, showing the ATP and WTA federations that streaming was a broadcast alternative beyond television. Slipstream's broadcast allowed fans to watch these player's fans to view them play in NZ. Soon after Slipstream was working in Dubai, the US, Thailand and Australia.
A decade of streaming these events has reflected the progression of Slipstream from its early pioneering days to the current new wave of offerings and interactive features.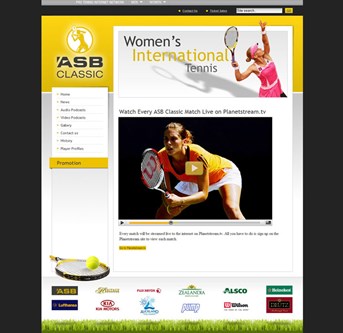 INTERACTIVITY FOR THE FANS - A HUGE HIT
If streaming international sports events before any other mainstream media company was not enough, Slipstream also pioneered real-time interactive features for the viewing audience allowing fans across the world to chat to each other while viewing.